Alaska Halibut Fishing Vacations
We offer a selection of fish-centric vacation packages that were designed to maximize your exposure to a wide range of fishing locations and species. Each package includes two full-day Alaska halibut fishing trips, one day in Ninilchik and one in Homer.
Soaring Eagle Lodge is open from May until Mid-September, during Alaska's peak halibut fishing season. May-September is the best time to catch halibut in Alaska, along with a wide variety of other ocean and freshwater fish. Our typical vacation packages are one week long and can feature up to six different activities. Learn how to build your own custom vacation now.
During your stay at Soaring Eagle, you'll enjoy a private oceanfront cottage with plenty of modern amenities and unbeatable views of Cook Inlet. After a busy day of fishing, you and your family can grill and relax, tour Homer, or simply enjoy the breathtaking views.
If halibut fishing is your primary focus, simply fill out our trip planner form or call us at 907-953-6688 to start planning your fully customized fishing vacation.
Alaska Halibut Fishing in the Kenai Peninsula
Ninilchik Halibut Fishing
Halibut fishing is extremely popular in Ninilchick, Alaska. That's because halibut migrate through Ninilchik from Homer, making this some of the most productive fishing grounds around. The quaint town of Ninilchik is a hidden gem among the Kenai Peninsula and is easily accessible from the cabin grounds.
What To Expect
Whether you're an avid angler or a first-timer, we're excited to have you aboard the Ninilchik halibut fishing charters. When you fish with us, you're guaranteed a fun, safe, and memorable experience.
The Ninilchik expedition leaves from the Deep Creek boat launch. Our fleet consists of three boats carrying six passengers each.
You can expect to see plenty of interesting wildlife and catch a variety of fish over the course of the day. Our crew will ensure you have the proper instructions and will assist in baiting your hook and handling the fish.
Per Alaska regulations, you'll be limited to two halibut per day, with a maximum size of 28-inches for one of the fish and no size limit for the other fish.
The Boat
Our 33-foot SeaSport Marine vessels are equipped with a full galley, private restroom, indoor/ heated lounge, and a spacious deck for fishing. This boat is the perfect size for private groups and families.
For this expedition, fishers must be able to climb a short ladder.
The Expedition
This is a morning trip lasting between six and eight hours. The exact departure time varies throughout the season based on tidal activity. You will receive a detailed itinerary when booking your vacation package.
After meeting with our expert halibut fishing guide, you'll be briefed about your day. Within 30 minutes, you and your group will venture out into the waters where you'll enjoy a full day of fishing and excitement.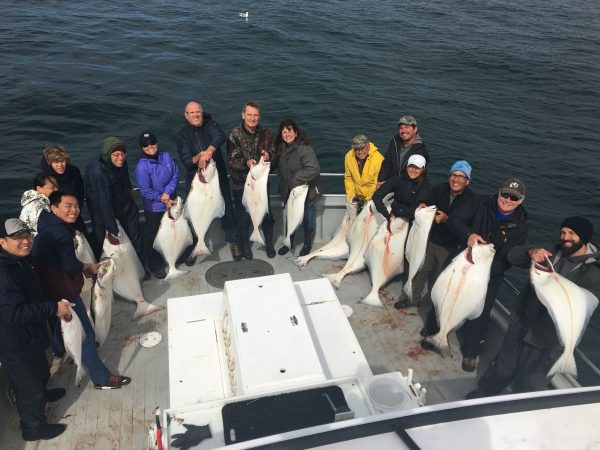 Homer is known for its world-class halibut fishing grounds. The "halibut capitol of the world" provides a thrilling fishing experience that is guaranteed to leave you with incredible memories you'll cherish for a lifetime.
What To Expect
We place as much emphasis on your happiness and comfort, as we do on your fishing experience. Our boat captain and crew are widely known for their attention to detail, customer service, and deep knowledge of and experience with the Homer fishery.
Before we launch, you will be given instruction on proper halibut fishing techniques and be briefed about your day.
When we arrive in Kachemak Bay, you can rely on us to help you every step of the way. Our expeditions cater to all skill levels and we welcome families.
Alaska regulations mandate that you are limited to two halibut per day, with a maximum size of 28 inches for one of the fish and no size limit for the other fish.
The Boat
At 50 feet, The Sundy is our largest vessel, capable of comfortably holding up to 25 passengers. With its spacious deck and newly remodeled indoor lounge, The Sundy is guaranteed to make every charter trip a comfortable one. Our captains are USCG licensed and our boats are regularly inspected for your safety, and each boat is additionally staffed by two seasoned deckhands.
The Expedition
In order to make your fishing expedition as fun, easy, and comfortable as possible, each charter is capped at 16 people. Your full day of halibut fishing begins at 6 am and ends between 2 and 4 pm. Each expedition is between eight and ten hours long.
What's Included
Tournament-grade fishing gear, including rods, reels, bait, and tackle
Fish cleaning and filleting
Expert guidance
Boat and crew
What Do I Need To Bring?
Fishing licenses - you can purchase one quickly and easily online with the Alaska Department of Fish and Game
Harvest cards are required for all children 16 and under, as well as residents who utilize a permanent card as their fishing license
Meals, snacks, and drinks
Personal protective items such as sunscreen
What To Wear Halibut Fishing in Alaska
While you won't be contending with arctic conditions during the halibut fishing season, Alaska's weather tends to be variable even in summer. When dressing for the day, you'll be most comfortable if you can prepare for a range of weather conditions.
In Alaska, layering is your parachute. Layering your clothes will allow you to stay dry and comfortable, and will let you make small adjustments throughout the day.
Tips for Clothes Layering
Wear a thin base layer
Ensure your top layer is water and windproof
Add 2-3 layers varying in warmth between the base and top layers
Sleeveless layers are great for warming your core without adding too much bulk
Choose materials designed to wick moisture away, such as polyester or merino wool. Don't wear cotton, particularly as a base layer, because cotton becomes easily saturated.
Don't skimp on socks. Choose an insulating material designed to keep your feet warm and dry.
Wear waterproof boots with good tread. You'll need it when you're reeling in massive halibut.
A hat to keep water and sun off your face is always a good idea when fishing.
Recommended Daily Packing Checklist
Camera
Sunscreen
Rain/wind gear
Hats/sunglasses
Seasickness prevention
Packed lunches/beverages
Waterproof/slip-proof boots
Although professional fishing gear will be supplied, you are more than welcome to bring your own personal gear to maximize your enjoyment.
Fish Processing & Shipping
We offer processing for $1.00 per pound.
Shipping options include FedEx Overnight or FedEx 2-Day
Sea Sickness
Even if you are not prone to motion sickness, we recommend you prepare accordingly because we cannot turn your boat around unless your party has booked a private charter. There are many preventative methods on the market, including prescriptions that won't leave you feeling drowsy.