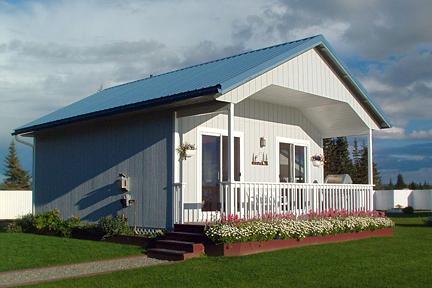 Our vacation resort consists of eight uniquely private, oceanfront cottages that are situated on the bluff overlooking Mount Iliamna and Cook Inlet on the Kenai Peninsula. Your stay with us will be nothing short of incredible with stunning views, manicured landscapes, acres of wildflowers, and Alaska's exciting wilderness right in your backyard.
Our Alaskan fishing lodges are located on the Kenai Peninsula roughly 10 minutes south of Ninilchik.
About Our Vacation Cabins
Cottage availability: May- September
Cottage Sizes: 1, 2, and 3 bedroom cottages
Cottage Capacity: Up to 29 guests per week
Private Parking On Sight
Private Custom Fire Pit Area
Private Deck Areas Equipped with Private Grills
Full Bedrooms | Full Baths
Full Kitchens Including All Appliances
Spacious Living Rooms
WiFi | Satellite TV
Full Laundry Units
All Linens and Towels
Private On-Sight Manager
Personalized Adventure Coordinator
Fully Customized Itineraries For Each Day
Variety In Adventures at DISCOUNTED RATES
Roundtrip Airfare Options
8 -Day Rental Car Availability
Food Packages Available
Complimentary Welcome Package Included
Honeymoon +
Anniversary Packages Available
All Fish Processing +
Packaging + Shipping Boxes
Personal Fly Rods + Light Tackle + Hip Boots
All of our vacation packages are all-inclusive with the exception of meals and airfare, which can both be added on for an additional cost.
We do provide basic food staples such as coffee, sugar, creamer, tea, salt, and pepper for your use. 
We recommend that our guests stop at Fred Meyer in Soldotna to stock their kitchen for the week. Note that you'll need to pack a lunch on most excursions, so be sure to keep that in mind when shopping.
Check-in and check-out are designed to be a smooth process. Check-in time is between 3-5 pm. Once you arrive, our staff will help you settle in by unloading your bags and groceries. Once you're settled in, they will give you a detailed orientation guide and ensure all of your questions are answered prior to starting your vacation!
We ask that your cabin is vacated by 10 am on your final day.
Local Grocery Stores On the Way to Soaring Eagle Lodge:
Anchorage: Walmart, Target, Costco, Safeway, Fred Meyer, Save U More

Soldotna/ Kenai: Walmart, Safeway, Fred Meyer, Save U More

Ninilchik: Local general store

Homer: Safeway and Save U More
Stay in one of our Alaskan fishing lodges for the vacation of a lifetime. A Soaring Eagle Lodge vacation coordinator is ready to help you book your all-inclusive trip to Alaska, complete with adventure, fishing, and lodging.