Alaska Luxury
Wilderness Lodge
Check out the most commonly asked questions and answers to ensure you have the best experience with your adventure at our Alaska luxury wilderness lodge!
We look forward to your stay with us!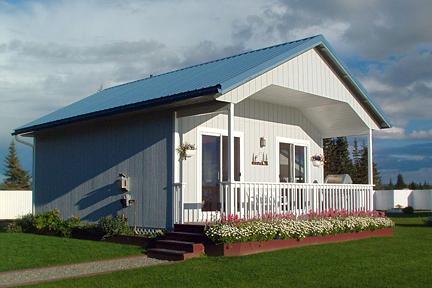 Our Alaska luxury wilderness lodge consists of eight uniquely private, oceanfront cottages that are situated on the bluff overlooking Mount Iliamna and Cook Inlet. Your stay with us will be nothing short of incredible with views, manicured landscapes, acres of wildflowers, and Alaska's exciting wilderness, all while nestled in your own warm and cozy Soaring Eagle cottage.
Our Private Accommodations include the following:
Cottage availability: May- September
Cottage Sizes: 1, 2, and 3 bedroom cottages
Cottage Capacity: Up to 29 guests per week
Private Parking On Sight
Private Custom Fire Pit Area
Private Deck Areas Equipped with Private Grills
Full Bedrooms | Full Baths
Full Kitchens Including All Appliances
Spacious Living Rooms
WiFi | Satellite TV
Full Laundry Units
All Linens and Towels
Private On-Sight Manager
Personalized Adventure Coordinator
Fully Customized Itineraries For Each Day
Variety In Adventures at DISCOUNTED RATES
Roundtrip Airfare Options
8 -Day Rental Car Availability
Food Packages Available
Complimentary Welcome Package Included
Honeymoon +
Anniversary Packages Available
All Fish Processing +
Packaging + Shipping Boxes
Personal Fly Rods + Light Tackle + Hip Boots
As one of the top-rated luxury lodges in Alaska, we're committed to your satisfaction throughout your entire experience with us.
We have created a comfortable, homey and independent environment for your stay at our Alaska luxury wilderness lodge.
Each cottage contains a variety of additional appliances including an iron, ironing board, blender, hair dryer, and hand mixer.
Your cottage can be configured as two twin beds or one large king size bed at your option prior to arrival.
We look forward to having you stay with us this summer in Alaska!
info@soaringeaglelodge.com | 907-953-6688