Gold Panning
Tours in Alaska
Alaska is known for its large salmon runs and barn door halibut. Now, we offer a full day of Gold Prospecting on a gold claim that has put many miners to work since 1886 on one of your days off. Ready to learn more about our gold panning vacation packages in Alaska?
Our gold prospecting adventures start about 8am, when you will meet Layton or Tyland at one of their claim locations, depending on what month you are coming.
Once there, you will head into the claim where they will show you or your group how to set up two pieces of equipment that we have decided to use throughout the day.
The first piece of equipment we will use to run raw dirt. Once your group has ran a good amount through it, we will shut pumps down and clean the equipment, leaving us with just concentrates. Then, we will show you how to set up and run a gold cube. Running the gold cube is where everyone gets excited; they start seeing the gold being caught up in the matting. One guest uses a pair of tweezers to pick the bigger pieces of gold and one uses a snuffer bottle to suck up the smaller gold. Once you're done running the cube, you will end up with a pan of black sands and gold. Then, you have your choice to clean black sands from your gold with the Banjo pan or just a gold pan.
Now that we have cleaned the gold from the black sands, you can take a picture of your gold in the pan or in the vial that you will take home.
This Alaska gold panning tour is about an hour from the town of Soldotna.
We usually take groups from two to eight guests, but we have also done larger groups. In the month of May, we do school field trips. Please call for special pricing on big groups.
The whole time, you will be learning how to prospect in the 21st century with no damage to the creeks. You can ask questions the entire day while learning how to use each piece of equipment.
No matter your age or strength, your guide will teach you on the equipment that best fits your abilities and needs. So far, our prospecting guests have ranged in ages from 5 years old to 82 years young. Guests can work at their own pace and can take a break for lunch anytime they would like.
Things that you could bring to make your day comfortable for your
Alaskan gold panning tour in the mountains: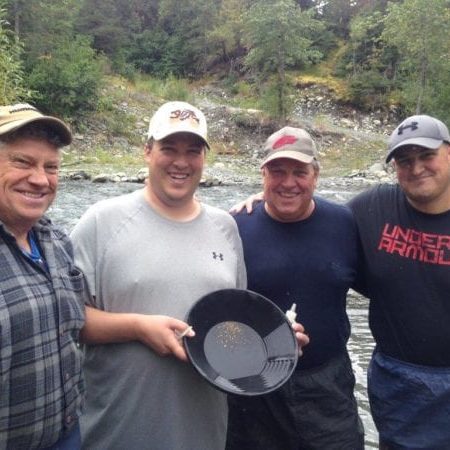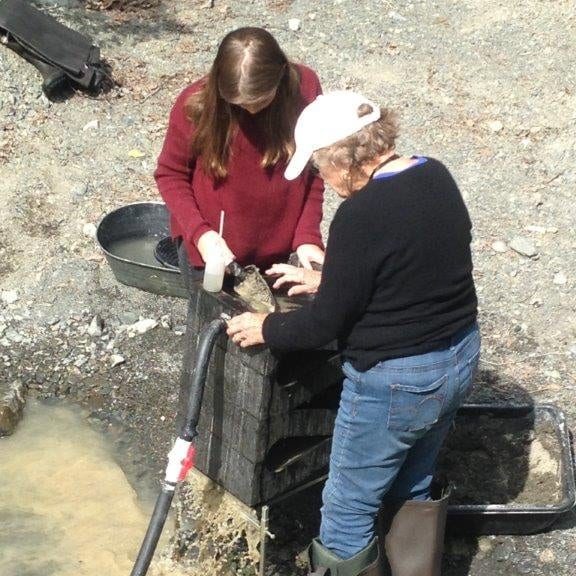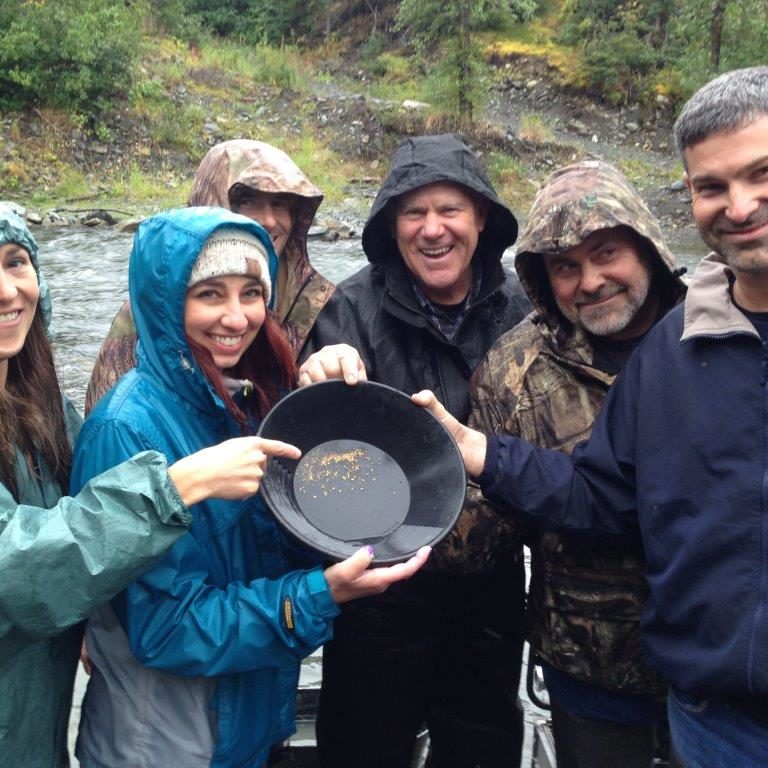 Snacks, lunch, and plenty of water since you will be working.
Old pants, layered clothing, and gloves (since you will be playing in the dirt).
Rain gear in case of wet weather.