Dining at Soaring Eagle Lodge
While visiting Soaring Eagle Fishing and Adventures, you'll stay in a cottage featuring one of the most spectacular views in the state of Alaska. Situated on a bluff overlooking the Cook Inlet, you'll have a view of the Alaska Range, Mount Iliamna, and Mt. Redoubt.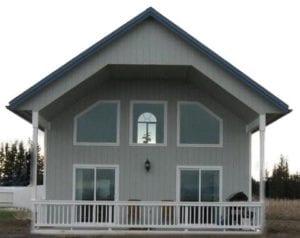 Your cottage comes with a complete kitchen and propane barbecue on the front porch. However, if cooking your meals isn't on your agenda, or you're interested in a night out, there are plenty of restaurants and coffee shops in the area, ranging from family-style eateries to casual fine dining. All are within easy driving distance, and you'll receive a detailed map that includes these locations upon your arrival.
The Kenai Peninsula has some of Alaska's best eateries. Be sure to add these local restaurants to your itinerary.
The Buzz
Conveniently located and with a drive-thru, The Buzz is a must-stop for anyone staying in or traveling through the area. The Buzz's fast and friendly service is second to none, and their prices can't be beaten. Whether you're on your way to or from Soaring Eagle, or just passing through, the Buzz is the perfect place to start your day off positively. Come for the coffee and stay for the yummy local goodies. The Buzz is the perfect spot to stop and enjoy the company of friends. 
Rosco's Pizza
Come taste the best pizza on the Kenai Peninsula at Rosco's! These pizzas are served with genuine hospitality at a price that keeps locals coming back. Rosco's Pizza opened its doors in November of 2010 in the Alaskan fishing community of Ninilchik with the goal of creating fantastic food in a fun, casually Alaskan atmosphere. Their delicious recipes were developed after decades of cooking in kitchens across the country, incorporating only top-shelf ingredients like real olive oil, fresh produce, local choice meats, and cheeses. Everything is hand-crafted from scratch with equipment and techniques born in Italy and perfected in Ninilchik. 
Keen Kow Thai
If you're in the mood for delicious Thai cuisine served with a hefty dose of hospitality, make your way to this hidden gem in Ninilchik. The chef, Nina, is a magician in the kitchen and will accommodate nearly any special request. You can even bring in your own catch of the day, and they'll cook it for you to perfection. The food here is cooked fresh and served quickly and with a small, cozy setting of about 10 tables, the service is always attentive. Don't forget to try their specialty dishes, such as the lightly fried fish bites with a sweet and sour sauce or the cilantro-topped coconut and lemongrass soup. You won't be disappointed!
Alaska Supper Club on Chautauqua's Grounds  
Chautauqua Supper Club is a place for wonderful food and warm and inviting Alaskan hospitality. Here, you can partake in a unique dining experience consisting of 4-6 courses, in a cozy family-style dining area. 
The menus at AK Supper Club are seasonal and meals are often finalized just hours before the diners arrive to ensure the freshest ingredients. All seafood is sourced from the pure waters of the Cook Inlet and surrounding areas, guaranteeing exceptional quality and the produce is organically sourced in the club's own kitchen garden or from local family farms. Each course at AK Supper Club can be paired with a complementary wine of your choice. 
A weekly package price is derived from the information on your "Build a Trip" form and the number and type of adventures you select.
Packages typically range about $2900 per person depending on airfare costs.