Kenai Peninsula Salmon Runs
Best Times to Fish the Kenai & Kasilof Rivers for Salmon
June Salmon Runs
We begin our guided excursions for the early runs of King salmon in June. Fishing the Kenai early affords hobby anglers plenty of peace and solitude along with the opportunity to snag their favorite fish. During the month of June, salmon fishing isn't always consistent on the Kenai River, making it even more important to hire a guide with a deep understanding of the river's seasonalities. Our world-class crew is deeply familiar with the river's best fishing spots. 
July Salmon Runs
If you're only after King salmon, you're most likely to land one in July. Starting in July and continuing through mid-August, the lower Kenai will also be flooded with Sockeye.
August Salmon Runs
Beginning in August, you'll encounter ample Silver salmon in the lower areas of the river.
About Kenai River Salmon Fishing
The Kenai River provides an unparalleled experience for Pacific salmon fishing in Alaska. Sports anglers love the Kenai for its abundance of salmon, including King, Sockeye, and Silver varieties.
The lower portion of the Kenai River is rich with fish from May through September. This section of the river is particularly known for its first-rate salmon fishing opportunities.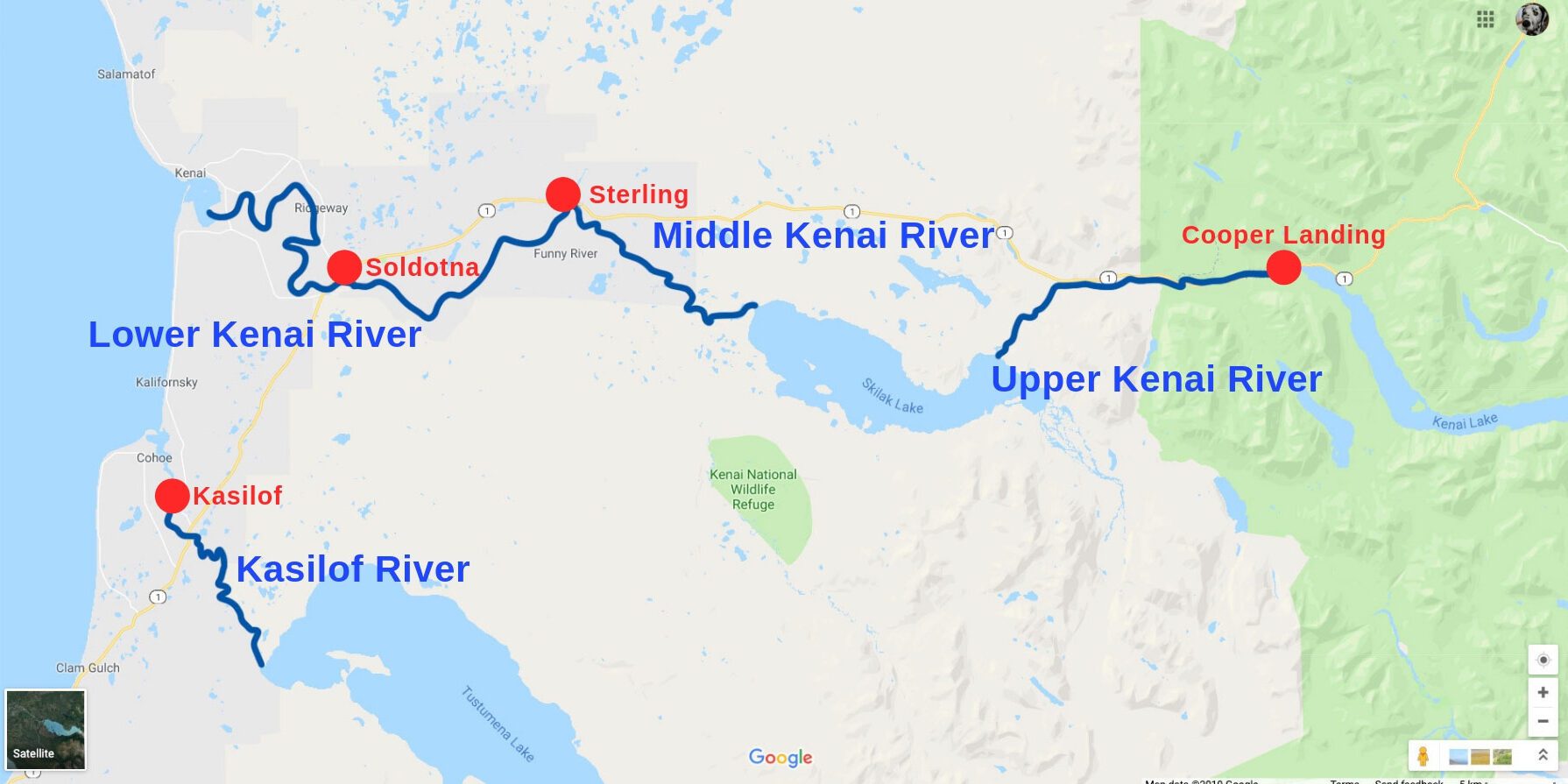 Kasilof River Salmon Runs
May Salmon Runs
Similar to the Kenai River, the Kasilof experiences two distinct runs for King salmon. Early runs for Kings in the Kasilof begin in May.
June/July Salmon Runs
From June through to August, you'll find plenty of Sockeye here. Although the Kasilof sockeye tend to be a bit smaller than their Kenai counterparts, any seasoned angler will tell you that peak Sockeye season on the Kasilof in late June and early July is a tremendous and unforgettable event. 
July/August Salmon Runs
The Kasilof is known for the size of the late-season Kings it produces. Throughout July and early August, King salmon fishing is a spectacular event here.
August/September Salmon Runs
Silver salmon are readily available from late July through September. During the second and third weeks of August, Silver salmon fishing hits its peak on the Kasilof, but anglers typically have great luck with Silver salmon on the Kasilof throughout the entire Summer.
Kasilof River Salmon Fishing
The Kasilof River has no shortages of phenomenal fishing spots for salmon. The river is accessible by drift boat only, making fishing here a unique experience that allows anglers to experience the river's serene beauty while hooking their trophy fish.
The Kasilof is known for its wealth of salmon, including Silver, Sockeye, and King, providing excellent fishing opportunities from May through September.