Alaska's Kenai Peninsula offers a wide array of opportunities
for outdoor activity and sightseeing.
The activities listed below offer guests the opportunity to sample the best of the Kenai Peninsula's many exciting adventures and interesting visitor attractions.Guests may do many activities on their own, at little or no additional cost, with the rental car which is normally part of the Soaring Eagle package. Additional activities are available which are professionally operated and guided requiring some additional expense. We would be happy to discuss these optional activities with you.
We will help you plan an itinerary that meets your special interests and needs. An example of these activities are: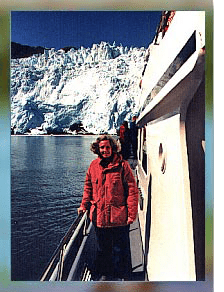 Kenai Fjords National Park
A guided boat tour of glaciers, bird and marine life in incredible natural beauty seen from a large, safe, warm boat with a meal served on board. Truly a must see activity.
Homer Walking Tour
Nearby Homer, Alaska offers a full day of museums, trails, historic buildings, local art galleries, commercial fishing harbor and some of the finest restaurants in small town Alaska. These activities can be done on your own with some materials and guidance from us.
Our seven day package provides time for up to three days of non-fishing activities or more if that is your preference.
Expand your Soaring Eagle Alaska
Vacation to include:
A three day visit to Denali National Park by rail stroll through the train and dine at your leisure large picture windows experience Denali guided wildlife tour and watch for moose, caribou, Dall sheep and grizzlies trip includes two nights lodging at the Park before returning by rail to Anchorage. Trips available for under $800.
Other Sightseeing and Eco-Adventure Options:
Kenai Fjords National Park – guided boat tour of glaciers, bird and marine life in incredible natural beauty.
Full day, fly-out brown bear viewing and photo safari
Sea Kayaking
If you're one of many that don't find hooking a large Alaskan Halibut and rod-fighting King Salmon to be your idea of fun, then consider spending a few days enjoying the greatest vacation destination in Alaska…..The Kenai Peninsula and it's endless outdoor adventures:
Combination Upper Kenai River Rafting and Gold Panning.
Spend a full day adventure seeing wildlife, scenery and this hands on intro to gold panning.
Kayaking.
Kayaking adventures in beautiful protected waters – includes a guide, lunch, eagles and sea otters and much more.
White Water Rafting the Six Mile River.
White Water Rafting the Six Mile River in Hope on the North end of the Kenai Peninsula – two or three canyon white water river runs – an exciting half day adventure.
Hiking.
Hiking to one of our local glaciers in Kachemak Bay State Park – well maintained trails and spectacular views.
Flight see Kachemak Bay.
Flight see Kachemak Bay and the surrounding rivers, lakes, mountains, glaciers, wildlife and natural beauty.
Horseback Riding.
Horseback Riding adventures that include Fox River flats, incredible views of the bay, mountains and area glaciers – a fun, guided adventure.
Brown Bear Photo Safaris.
Day long, fly out adventures with a naturalist guide and lunch – absolutely awesome bear viewing in safe conditions.
Pratt Museum.
Spend hours in this wonderful, local museum featuring early Homer history – homesteader exhibit – botanical garden – much on the native Alaskan people.
Kenai Fjords National Park Cruise.
Whales, glaciers so close you can almost touch them – large boats – narrated – a photographers dream.
Rafting the Kenai River.
A great, three hour, affordable, quite water raft trip down the upper Kenai River – eagles nests – Dall sheep – river otters and beautiful surroundings.
Full Day Rafting.
Upper Kenai River scenic raft trip through the Kenai Canyon to Skilak Lake with a nice shore lunch provided and wildlife viewing opportunities.
Guided Natural History Tours.
Across Kachemak Bay – explore nesting seabirds, intertidal areas, native culture, geological formations, flora and fauna – a guided, narrated tour by the Center For Alaskan Coastal Studies.
Sled Dog Ride and Tour.
See and tour a working Iditarod Racing kennel with over 60 sled dogs – board a wheeled sled and learn to manage a dog team from a real professional.
Cruise to Historic Seldovia.
Enjoy the narrated boat trip – enjoy beach combing or lunch or a short hike – tour the town – a pleasant trip.
Drive the Kenai Peninsula.
Drive the Kenai Peninsula on your own – the rental car that comes along with a Soaring Eagle vacation affords you access to many interesting sights, shopping and scenery on your own – and it's free.
Water Taxi Across Kachemak Bay.
Water taxi across Kachemak Bay for a 2 hr hike up to Glacier Lake where you will explore the lake by guided, "Stand Up paddle board". Lunch provided on the lake shore before paddling back and your 50 minute hike back. Water taxi back to Homer.
Homer Art Gallery Tour.
Again, on your own – Homer's artist community prides itself not only in its work but in its galleries – all within a short distance of a special, little Alaska eatery. A great afternoon on your own.
Short Water Taxi to China Poot/Petersen Bay area.
Paddle boarding safety and technique demo followed by taking to the water. Route is dictated by the tide and determined by the guide, taking you to steep cliffs, tide pools and fjord like bays. Lunch stop and afternoon snack.
Prospect For and Mine Gold!
Your guide will show you how and where and guide you each step of the way. The trip requires your active participation but then at the end of the day you will have your gold in a vial so that you can take the gold home with you.