Guest Blog by Tim Fox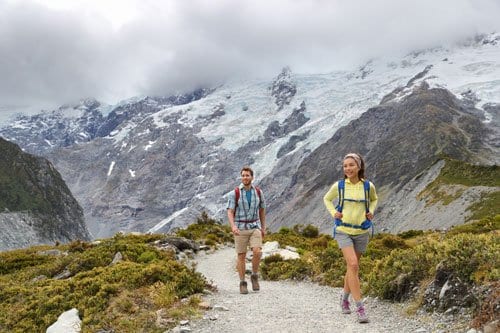 Planning your hiking expedition can be a bit overwhelming, especially for beginners. Not to mention the challenges that arise whilst you are actually out there in the wilderness.
Many hikers will find it difficult to live in urban areas, and what about bears? Then there are other concerns such as what to eat, what to pack, how to navigate while hiking and how to deal with the climate.
So, in this comprehensive hiking guide, we are going to break down everything you need to know when preparing for this life-changing adventure.
Just a little preparation and planning will get you going.
Hiking is a low-impact activity which involves hikers walking across long trails or paths, in a forest or mountains. This activity can be of moderate to high difficulty, depending on the type of trail.
A hike can be for just one whole day or last for more than 20 days; it really comes down to your choice. You can go for a hike alone or in groups.
Hiking is slightly different from trekking, as trekking is a much longer program.
Altogether, hiking is an amazing activity that helps you explore the history and culture of a country or a specific area. It's like a cultural adventure, where people meet trails.
​How to start hiking as a hobby?
Hiking is just walking right.
So primarily, it requires your willingness to get out there and explore your surroundings.
Once you make up your mind, you just need to arm yourself with the right kind of clothing, gear and safety kit, and you will do just fine.
Take baby steps; buy stuff that is absolutely necessary for beginner's hiking such as shoes, wind-breaker, backpack, etc. As you gain experience, you can then buy additional gear and make hiking your hardcore hobby.
Plan your budget and spend according to the time you'll invest in hiking. You don't want to overspend if you hardly hike.
Hiking is quite an inexpensive hobby, as most of the gear needed for a hike can be generally found around your house.
Pack all the essential gear and look for state or county parks near you. Most of these parks do not demand an admission fee and have clear, marked trails. Which is why these are a perfect option for your first hiking experience. You will get to see some nice scenery as well.
Do not go above your skill level. Advanced trails are for people who've been hiking for several years. Have patience and as the years pass by, you can click with this hobby.
Once you've been on a few trails, you can search for more difficult or challenging terrains and invest in appropriate hiking gear like good shoes, technical equipment, trekking poles, a hiking backpack and more.
Read the full article at Tim's website: https://outdoorwithj.com/hiking-guide/