Your Q & A with Soaring Eagle Lodge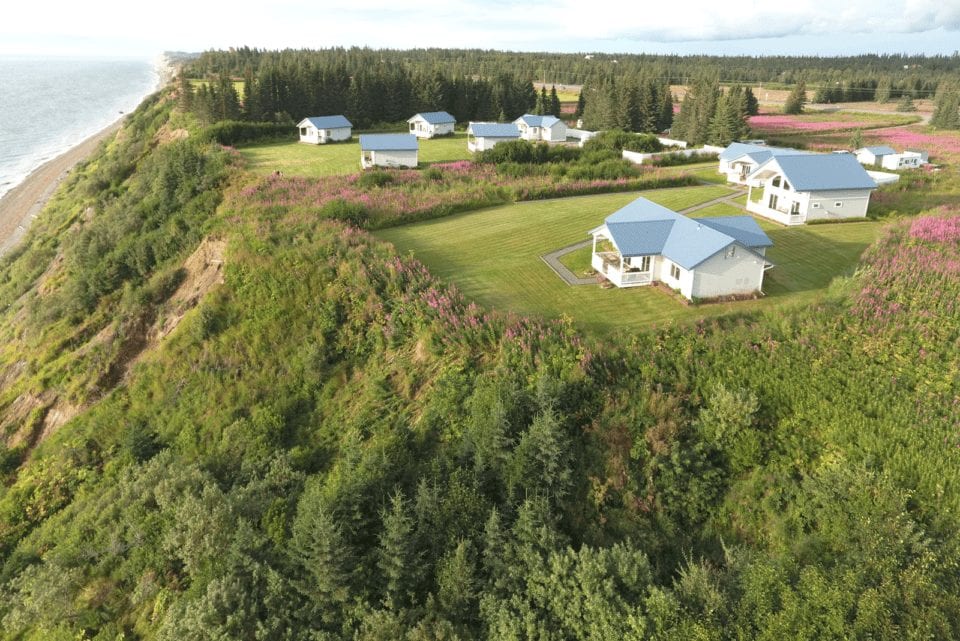 Average Daylight Hours:There are areas of Alaska that experience 24 hours of summer daylight, but the Kenai Peninsula is not one of them. On the Kenai, you may expect up to 19 hours of daylight in June, 17 hours in July, 16 hours in August and 14 hours in September.
Average Temperatures and Precipitation:The average high temperature in the summer on the Kenai Peninsula is in the mid 60's. There is an average of 50% humidity and less than two inches of precipitation per month. Remember that temperature on the saltwater is colder, so dress warmly. Weather is always a factor but if you are prepared it seldom interferes with a great vacation experience.
Bank Card Cash Machines:Homer and Soldotna have major bank branches and many merchants host cash machines on their premises. Most merchants and gas stations accept major credit cards. Ninilchik General Store has an ATM. Travelers checks are used frequently and are always accepted.
Cost of Living:Generally speaking, you will find the cost of living to be slightly more expensive than at home. Gasoline is pretty much on a par with the rest of the country and restaurants are comparable. In the space of a vacation week it will be difficult to be harmed financially.
Clothing:As you might expect, Alaska is a pretty casual environment. It is always wise to carry "layers" of clothing with you to accommodate the varying weather conditions; you can take them off if it is a warm, sunny 75 degrees, but be very happy if the weather turns cool and blustery. You will want to dress warmly when going out on the ocean and other outdoor activities, with long underwear under your clothes and a sweater on top, as well as a warm jacket, hat and gloves. You'll want full rain gear and 2 pairs of shoes, such as tennis shoes or water-resistant hiking boots.
Cellular Phone Service:Check with your home provider about service. Most analog and digital phones do successfully "roam" on the Kenai Peninsula but there are a few areas with poor reception.
Drinking Age:The drinking age in the state is 21 years of age. Alcohol may be purchased seven days a week from 8am to 10pm at area liquor stores only; it is not sold in grocery stores.
Driving Tips:Alaska honors all out of state driver's licenses. Seat belts must be worn at all times. Maximum speed limit on the Kenai Peninsula is 55 mph. Watch out for moose.
Firearms:You may carry firearms for protection or hunting in Alaska. Airline passengers must declare their firearms and check them as baggage. Please let us know if you decide to bring a firearm. There is NO need for a firearm at Soaring Eagle or for any of the Soaring Eagle activities. Where appropriate, guides will provide any protection required.
Holidays:All major US holidays are observed on the Peninsula. Seward's Day on the last Monday in March and Alaska Day on October 18th are also observed.
Medical Facilities:The cities of Soldotna, Homer and Seward have hospital or medical centers and energy medical services are available along the Peninsula.
Mosquitoes:Mosquitoes are present in varying degrees from April through September each year. None carry disease. On the Peninsula they are found on coastal flats and in forested valleys. The worst occurrences are in areas of slow moving or standing water. These insects are most active at dusk and dawn but wind greatly decreases their activity. They are no problem along the bluff line at Soaring Eagle.