Check it out- There's different kinds!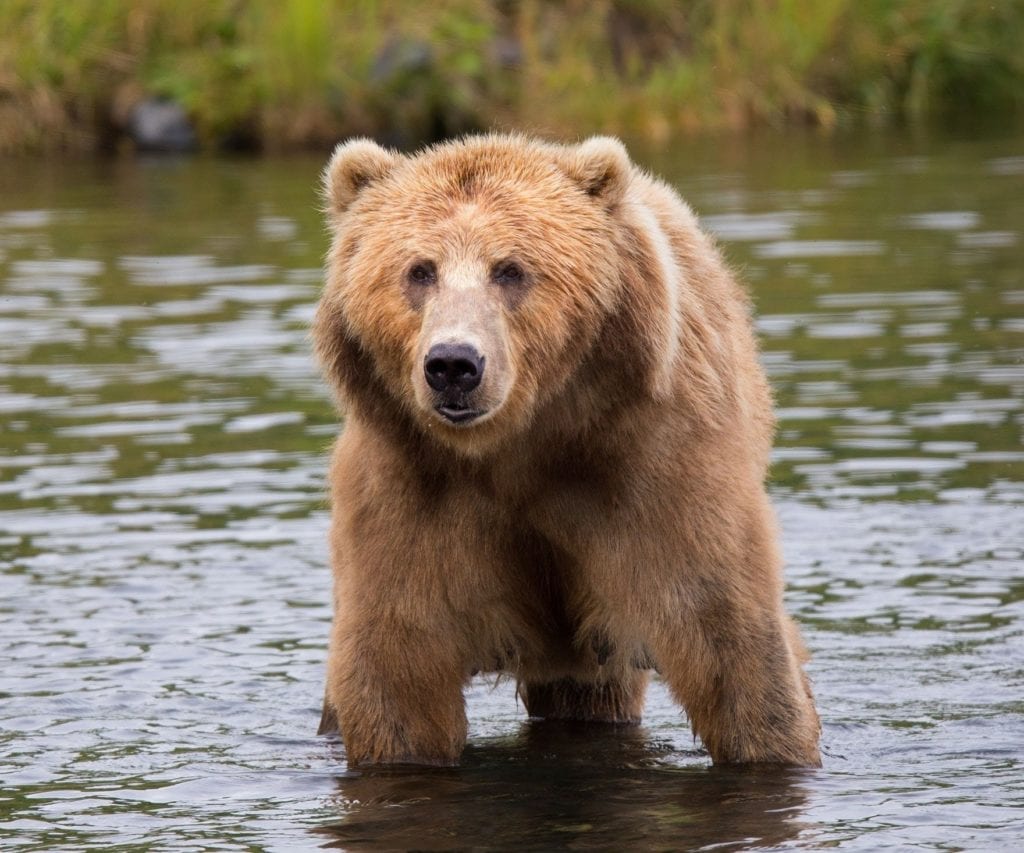 Polar bears, brown bears and black bears, oh my! With three types of the impressive (but not cuddly) mammals living across Alaska, that's nearly 140,000 bears roaming the state. While any visitor could certainly spend a vacation without seeing one, the chances are high you'll spot one if that's your intent, especially if you book a bear viewing tour.
Seeing a bear up close in a guided and safe scenario can be one of the most thrilling moments of your Alaska vacation. And it can happen whether you fly into a popular bear habitat in a national park, go fishing along a river, head into the backcountry or visit a conservation center.
With so many options available, we spoke to tourism experts across the state about five bear viewing experiences you can take part in no matter what region you're exploring. (During the COVID-19 pandemic, many Alaska tourism businesses are open under the state's Reopen Alaska Responsibly Plan, but tour operations are being modified to meet COVID-19 safety precautions. Contact each operator to learn more.)
Inside Passage
"At Pack Creek [Brown Bear Viewing Area], the bears come first. Only 24 people per day can visit Pack Creek, which means that the bears are free to move around the meadows, forests and tidelands freely," said Dan Kirkwood, a guide and general manager of Pack Creek Bear Tours.
Located in Admiralty Island National Monument, just a 30-minute flight from Juneau, Pack Creek Bear Tours' guests typically fly into Windfall Harbor. "Depending on the time of day and the tide, the guide will make a recommendation about hiking in the woods to see where the salmon spawn or heading out to the meadow where the creek comes to the sea. Sitting quietly at the meadow is a great place to watch bears graze, chase fish and sometimes interact with each other. The hike takes us through the old-growth forest, past bear trails to the creek where fish are spawning in late July and August. The meadow is the primary place to look for wildlife. Sitting quietly helps the bears feel comfortable to come out into the meadows. There are no barriers between us and the bears, which may be seen from several hundred yards away to sometimes very close. Many of the bears that visit this area have experience with us respectful human visitors and are typically happy to ignore us."
Kirkwood added: "My favorite moments have been watching bears interact with each other, particularly cubs. With so few people at Pack Creek, it really gives each of us an opportunity to have our own special moment."
Southwest
It's hard not to associate Kodiak with its famous brown bears that have been known to weigh up to 1,500 pounds and stand 10 feet tall. The [Kodiak] Brown Bear Center was created to share our environment in a respectful way that promotes conservation for lands and the many different wildlife that area offers," said KBBC Director of Operations Stacey Simmons, who was born and raised in Kodiak. "Our Alutiiq people have lived here for thousands of years. The camp was built on our ancestral lands. Knowing that we are sharing our sacred space in a respectful way that teaches people the importance of preservation of the bears and our natural environment is very important to me and the KBBC."
KBBC's lodge sits on Karluk Lake and guests typically board a catamaran to explore bear viewing locations along O'Malley, Karluk and Thumb rivers off the lake. "When you get to the Thumb, there is about a 10-15 minute hike to our first platform for viewing. There is another platform about another 10 minutes away. These platforms are located above the river so you can look down on the bears as they feed. Recently we saw 8 bears up at the Thumb but numbers vary depending on feeding times," Simmons said. "You could be sitting in your cabin and watching bears play on the lawn too! There are a set of twins that come and play. They are curious and love to put on a show for our clients wrestling and sharing fish with each other."
[Editor's note: KBBC is closed for the 2020 season to protect the community from the spread of COVID-19 and is taking reservations for 2021.]
Interior
Denali National Park and Preserve is an iconic part of Alaska, and travelers often come hoping to spot "the Big Five," including grizzly bears. While you might think that means miles of hiking through the rugged backcountry, it can look very different.
"I think people enjoy the opportunity to see some of the wildest parts of nature from the safety of a vehicle. It makes this experience more accessible to some visitors, knowing that they view a bear in its habitat without being out there alone with just a backpack, but rather safely inside one of the park's tour buses," said Denali's Public Affairs Officer G. W. Hitchcock.
"Bears move up and down the entire length of the [Park] Road. This is where our tour bus drivers excel, they feed each other information about what's where on the road, so that the next group of visitors don't miss that chance to view the wildlife along the Park Road. All that being said, the best place to see wildlife is when the road rises above the treeline, or around the rivers and streams. Visitors often see bears between miles 20 and 60 of the Park Road, with the Sable Pass area at mile 39 being a popular spot."
Southcentral
If you want to guarantee a bear sighting or just prefer to keep a barrier between yourself and the animals, head to the Alaska Wildlife Conservation Center in Portage, about 45 minutes south of Anchorage. The sanctuary, which takes in injured and orphaned animals from across the state, currently has six bears in its habitat.
"Each of our bears have their own unique personality and characteristics that make visiting their enclosures very special. While walking on the Bears Boardwalk, guests get an aerial view of Kuma, Uli, JB, Patron and Hugo. Highlights include watching them swim, catch fish in the stream running through their enclosure, dig holes, play together and nap on logs. Kobuk, located next to the Wolf Enclosure, is famous for napping in trees and rolling in the grass," said Nicole Geils, Alaska Wildlife Conservation Center's director of operations, sales and marketing.
Interested in a more up-close and personal experience with the resident brown bears, JB (Joe Boxer), Patron and Hugo (the grizzly bear)? Book AWCC's Bear Encounter. "[Bear Encounter] guests will participate in the bear's daily training and feeding all while learning about bear behavior and diet from AWCC's amazing staff," Geils said. "Guests will have an opportunity to take photos, ask questions and help [staff] feed JB, Patron and Hugo. The most common exclamations we hear during a Bear Encounter are 'WOW' and 'I can't believe how big JB is up-close!'"
Geils added: "An important part of AWCC's mission is education, and we are constantly working to provide engaging learning opportunities led by our expert staff. The Bear Encounter is an important part of our education goals."
Arctic
There's only one place to go if you're looking for polar bears in Alaska: the Arctic. And Kathy Hedges, Northern Alaska Tour Company's marketing coordinator, recommends Kaktovik.
"During the summer months, the polar bears are on the mainland. There are cliffs near Kaktovik. It's a nice protected place for them to live unbothered. During the late summer, early fall, they head out onto the barter islands, and wait for the polar ice to come in." And this is the ideal timing to see them.
"Even though Kaktovik is remote, it's accessible. Our guests are guided on boats out into the Arctic Ocean to watch the bears lounging during the day. I saw some cubs with their mom. They were playing around her while she napped. Seeing them out in nature is just awe-inspiring. I can't describe what it feels like. And I just kept imagining where I was on the globe and how far north I was."
Hedges added: "Don't worry if you don't have a fancy camera with a long lens. It's all about appreciating the experience and seeing the bears with your eyes."
[Editor's note: NATC has cancelled polar bear tours for the 2020 season to protect the community from the spread of COVID-19 and is taking reservations for 2021.]
Looking for even more wildlife viewing activities in Alaska? Read more here and don't forget to check out the Alaska vacation planner for more trip ideas.
Learn more by reading the original blog about bears found here.