Guest Blog by Hannah Somers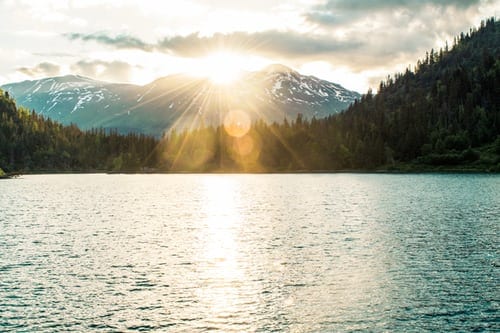 Thursday, August 7, 2014
I landed in Baltimore at 9:30am (Eastern Time) Monday after 2.5 hours of scattered sleep. Since then, I have been doing a lot of sleeping and catching up – and procrastinating on this last post (it's now three days later – sorry!).
I'm still not exactly adjusted to the time difference either. Waking up, I feel like I should be getting four more hours of sleep; but it's absolutely worth it being home.
I've got a ton to do – renting textbooks, organizing moving into my house for the coming year, planning a road trip, nailing down a job – and it's been hard to step back and take some time to reflect on my last 5 weeks in Alaska.
There's no way I can adequately recap everything that happened but it is possible to recap all of the things I learned along the way. I'm going to try to order these from greatest to least influence on my perspective on life…
1. There is no real right way to go about living. There is a necessity to be a decent human being while you're alive, but other than that, there is no set right way to live your life. As long as you are kind and hardworking there will always be opportunities. It doesn't all have to be planned out right now. I do still think it's a good idea to have a plan, but if it doesn't work out exactly WHO CARES. I met plenty of incredible, inspiring people who have worked so many different jobs and lived in so many different places – there's no way they would have had the opportunities they did without a little flexibility in their life plans.
2. Hard work feels good. Some of my most rewarding days were the ones where I felt just beat by the end. I could fall asleep no matter how light it was outside. It's a struggle, normally, for me to get motivated to start a hard project but once I got going I felt like I had a pretty decent work ethic and it felt good to do some hard labor every once and awhile.
3. Being uncomfortable is awesome. While I was gone I slept on a couch, a different couch, a futon, a twin bunk bed, a tent on the beach, a twin bunk bed again, and then a couch again; and there were maybe two times where I thought "hmm, what I wouldn't do for a real mattress".
4. Connection to the earth is key – I haven't spent so much time outside in awhile (maybe ever – since most days I was outside all day). Working out in the rain, getting a little cold every once and awhile, getting a little more sun than I probably should at point, etc. Now that I'm back home I'm realizing how much time outside I took for granted when I was in AK. Walking to breakfast in the morning when they dew was thick enough to get my toes wet, washing my hands after planting starts in the greenhouse, or after getting basil under my nails. I've never been so okay with getting sandy at the beach – which is saying a lot because usually that makes me tire of beaches after less than a day. Basing clothing & activities on the weather at the moment, getting tons of fresh air, bed times being enforced by the time it takes the sun to set enough so that I don't have anymore light to read – those things really made me realize that the earth is in charge and we're just kind of living here. Back home I don't get as much of that.
5. People can be great. As terrible as it sounds, while I was out in Homer I was expecting to meet at least one person who was just mean. In my experience, that seems to be the case most times – a good portion of a group of people can be really cool, but there's always a handful that surprise you by just being terrible. But, that never happened. I dunno if it had to do with the fact that everyone I met was willingly either working with kids or working with plants (or maybe I just got really lucky) but everyone I spent the last month or so with was totally nice and incredible in their own ways. Getting to know them really made me appreciate good people and restored my faith in the possibility of good in other groups of new people.
Missing the view
I'm sure my perspective on all of these memories will continue to change as I move through the rest of my life but I will always have these posts to remind me of my experiences and what my experiences have taught me. Sometimes writing these posts seemed like a chore – especially when the internet was slow and I was exhausted BUT I'm really glad I did them anyway.
And I'm really really glad – and grateful – that I had as much support as I did these past 5 weeks. Thank you again!
-HannahSunday, August 3, 2014
Today, my last full day in Alaska, I spent my time in downtown Anchorage. After a little digging, I figured out where and when to meet the bus and took it (for only $2!) into downtown. I then walked a few blocks to make it out to the Anchorage market. The flyer said their were 300+ vendors and it definitely seemed that way.
Before I left, I wandered into the visitor center where I found a few museum exhibits and a short film about Denali, which was really cool to be able to see.
By the end of the day I was definitely starting to feel yesterday's hike, so I made my way back to the transit center where I found that I had about 45 minutes until the next bus #3 rolled around. It turned out to be a nice delay, though, because it allowed me to find a little coffee shop where I got a smoothie, people watched, and read some more of my book (which I'm hoping I can finish on my flights tomorrow).
Sitting here, I'm realizing this is the last time I'm going to see the "sunset" over the mountains and it's a little bittersweet. Everything is so beautiful out here. I'm excited to get home, but I already know I'm going to have to come back out here at some point – if only to see some of the parts of Alaska that I missed.
I'll be flying out of Anchorage tomorrow around 4pm and arriving back home the next morning. I'm hoping to get over to Chester Creek Park again tomorrow morning to see some of trails I missed when I was first out here. I'll be sure to post again if I do! And I will definitely be making a last post reflecting on my trip once I'm home!
Thanks again to everyone who's been following these last five weeks!
-HannahSaturday, August 2, 2014
I got back to Anchorage yesterday (Thursday) around noon and after leaving at 3am that morning and not sleeping the night before, I promptly lounged and slept the rest of the day.
My last few days at Ageya (Tuesday/Wednesday) were amazing and I was sad to go BUT I'm also excited to be back out here for a few days to have a few more experiences before I leave. I was able to spend some more time with the new friends that I have made this past month and do some more work in the greenhouse – harvesting more lettuce and watering – and help organize and store the gear used across the bay.
My initial plan for today was to head out to Kincaid Park but after realizing that the bus does not run out there and a cab ride would've been about $50 round trip I decided it wasn't worth it. PLUS I read a story about a woman getting trampled by a mama moose there a few weeks ago and so I didn't feel all that comfortable going out there by myself anyway.
Instead, and I'm super glad it worked out this way, I found a shuttle from downtown that took a group out to Chugach State park to climb Flattop mountain and then drove back for a really reasonable price. I was a little skeptical at first but it turned out to be an amazing afternoon.
I met a few new people on the shuttle over and then spent the next few hours hiking up (1500ft. from the parking lot and 35ooft above sea level), hanging out at the top for about 45 minutes, and hiking back down. The hike was way steeper than I had anticipated but that just made it more fulfilling once I got to the top.
The view of Anchorage from about 10 minutes into the hike.
The middle portion of the hike had a few railroad tie steps – thank goodness! It was steep and the ground was made up of loose rock, super slippery
Part of the view from the top!
From the other side of the summit you could see Anchorage
One of many selfies and camera-timer shots
panoramic view at the top
One of my favorite timer shots!
The hike back down was super treacherous for about the first half mile. At points, I felt like I was rock climbing – using both of my feet and hands to scale down certain areas that were a little steeper. It was a little scary! But there were plenty of people around if I were to fall (which, thankfully, I did not). The whole thing – calf/quad pain and all – was totally worth it. It was a perfect last hike before I leave on Sunday.
The shuttle dropped us back off downtown so I spent another couple of hours wandering around shops and listening to "Live (Music) After Five" in a little park.
Tomorrow I plan to take a bus back downtown and spend the day out there. There's a huge open air market out there with 300+ produce and vendor booths and I am super pumped. There's a ton of shops/cafes I still haven't seen too so I'm sure I'll be down there for a good part of the day!
-Hannah
Tuesday, July 29, 2014
I am finally back from my almost 7-day trip across Kachemak Bay – tired and sunburnt but so glad I was able to have such an incredible experience. I have so much information to share so I'm going to organize it all by day.
Day 1 – July 21, 2014
On Monday a few of us left Ageya to bring all of the group gear across the Bay. After picking up a few pizzas for dinner, we met the water taxi at 5:45pm. We had probably a few thousand pounds of gear and the five of us had to unload it all from the van/truck, load it onto the boat, then off of the boat, and then carry it up the beach to the 4 separate camping areas (2 girls/2 boys). We then set up tentipi's (a big tent in the shape of a tipi), kitchen tents, propane stoves, etc. for each of the four camps. The boys and girls camps were separated by a large rock/cliff that made it impossible to get to either side at high tide. After we were done setting up we hung out around a fire on the boys' side and then took one of the double skin boat kayaks called a baidarka back to girls' camp because the tide had gotten too high.
Day 2 – July 22, 2014
Tuesday was the day when all of the campers and other staff members were arriving at the beach, so we all woke up around 9am and waited for them to arrive. The girls got to the beach aroudn 11 and then we made lunch and sat around a fire. We had some time to relax for a few hours and I had a chance to get some more Wuthering Heights read. The girls were to start with two large skin boats called umiaks. That afternoon we loaded up the umiaks and down the beach to get some paddling practice in and to load up on fire wood for the week. We saw an otter and a seal off the beach that afternoon!
I made it a point to write down how each day made me feel while I was over there too! Tuesday I wrote "I am feeling lucky to be here and it feels strangely normal to be outside all day".
Day 3 – July 23, 2014
I was super excited for Wednesday because I was finally going to be able to see a glacier (semi) up close and personal! One of the other staff members ran every morning and so I joined her for about half the time Wednesday morning – during which I somehow lost a contact out of my eye, only had hiking shoes to wear to run in, and the beach was all rocks; but the scenery and smell of the fresh air made up for it! We took the umiak out for about a 45 minute paddle to a hiking trail. We hiked 2 miles out to Grewink Glacier Lake and then made a fire and sat out on the rocky beach for a few hours. The rest (as will be the case for the majority of the rest of the days) can be better told with pictures!
paddling the umiak out to the glacial lake trail head
The view on the hike to the glacial lake
The hike about half a mile from the glacial lake. The glacier used to reach this spot 50 years ago. The rocks have all been left behind by the scouring of the ice.