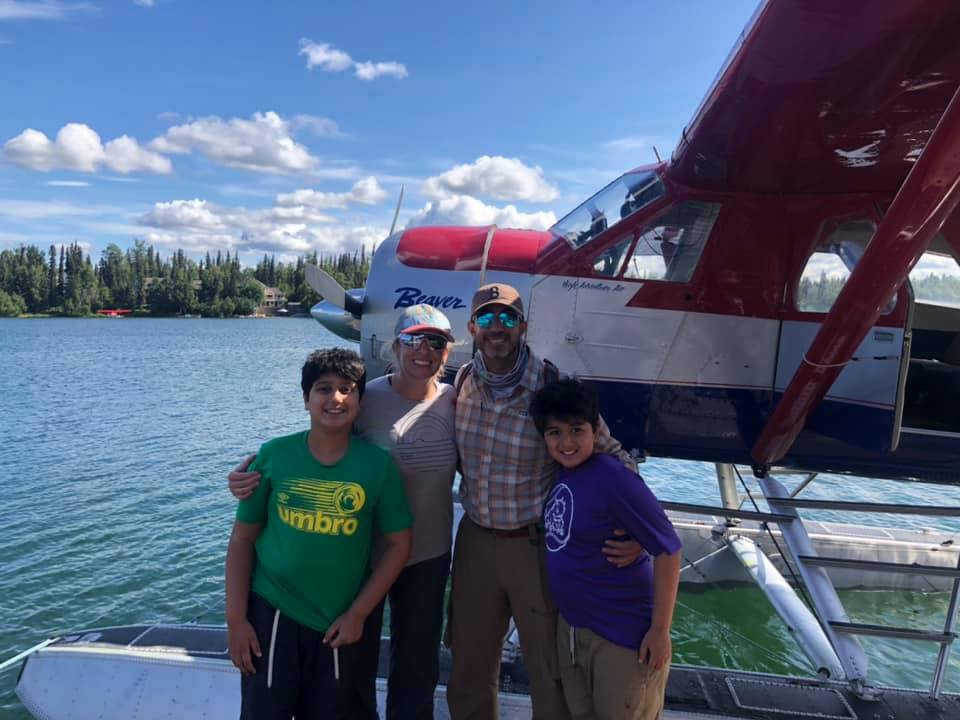 To begin, flight seeing of any kind, no matter the location, is a unique experience I would recommend to anyone! There is something special about seeing the world from the sky. Suddenly everything seems to be in slow motion and the hustle of life on the ground becomes beautiful and peaceful from above.
Prior to take off, I hopped up into the seat and put on my own pilot headset, like the ones in the movies!! At once, the wheels were off the ground and the people below just became specs of dust. As we headed toward Alaska's breathtaking mountains, I couldn't help but feel exceptionally small. We then got to fly over icy glaciers- which are stunning! Being surrounded by nature that's bigger than imagined is an experience one will never forget on this fly out.
For those who want to adventure on this tour, here are a few tips for you all to make the trip the best experience possible!
Alaska Flight Seeing Adventure Prepping:
Bring a camera!! You'll want photos of this adventure to relive the incredible views you will embark upon, but don't forget to live in the moment with this one. Taking a mental picture is something you will have forever!
You might get a little motion sick due to the small environment, but rest assured, the plane will eventually touch the ground! If you are prone to motion sickness, plan to take a remedy the night before to allow it time to set in and then again in the am before you board the plane! Bring some water and a small snack to keep you comfortable if needed.
Ask your pilot any questions you might have! Your guide has extensive knowledge about the location and historical findings. There's no such thing as a dumb question on this tour! It was fun to learn about the history of the location, so take advantage and ask whatever comes to mind!
Most importantly, enjoy Alaska to the fullest. Alaska is a bucket list item for many and seeing it by air is even more special. Take in the sights, smells, and sounds around you before they are gone.
This Alaska flight seeing adventure is uniquely special and refreshing for those who love nature! Taking life off the ground and seeing Alaska from another perspective will definitely be the highlight of your Alaskan vacation. For more information on getting your tour set up, contact us today or fill out our build a trip form to receive more information on all Alaskan Adventures we have to offer!
You can also book a 3 day/2 night Denali Excursion that includes a roundtrip train ride from Anchorage on the Denali Star.
Mount Denali in Alaska is the tallest mountain in the United States, with an elevation of 20,156 feet above sea level. This is the third most prominent and isolated peak on earth, only after Mount Everest and one other. Denali mountain is in Denali National Park, which is a huge hit with our park travelers from all over the globe. Denali entrance is about 133 miles from Anchorage, which is the typical arrival and departure point for Soaring Eagle Lodge guests.
Denali mountain is several hours from the park entrance. By adding the Soaring Eagle Lodge Denali Add-On option, you'll stay at Denali Bluffs Lodge near the entrance and receive the tundra tour to view scenic sights of the mountain. This lodge is scenically situated and among the better-managed Denali lodges at the park entrance.
The Park Entrance is called "Glitter Gulch" for a reason. You'll find restaurant choices and souvenir shops; with a hint of that quiet solitude of Denali's backcountry that you're there to enjoy.
Soaring Eagle Lodge offers many options to add the Denali package to your scheduled 8 day/7 night trip with our lodge. You can feature the Denali extension either before or after your stay with Soaring Eagle Lodge.And on top of all that, your rental vehicle is included in your package so that you're able to tour the local area and get more bang for your buck!
Give us a call and let's talk!
– Soaring Eagle Team