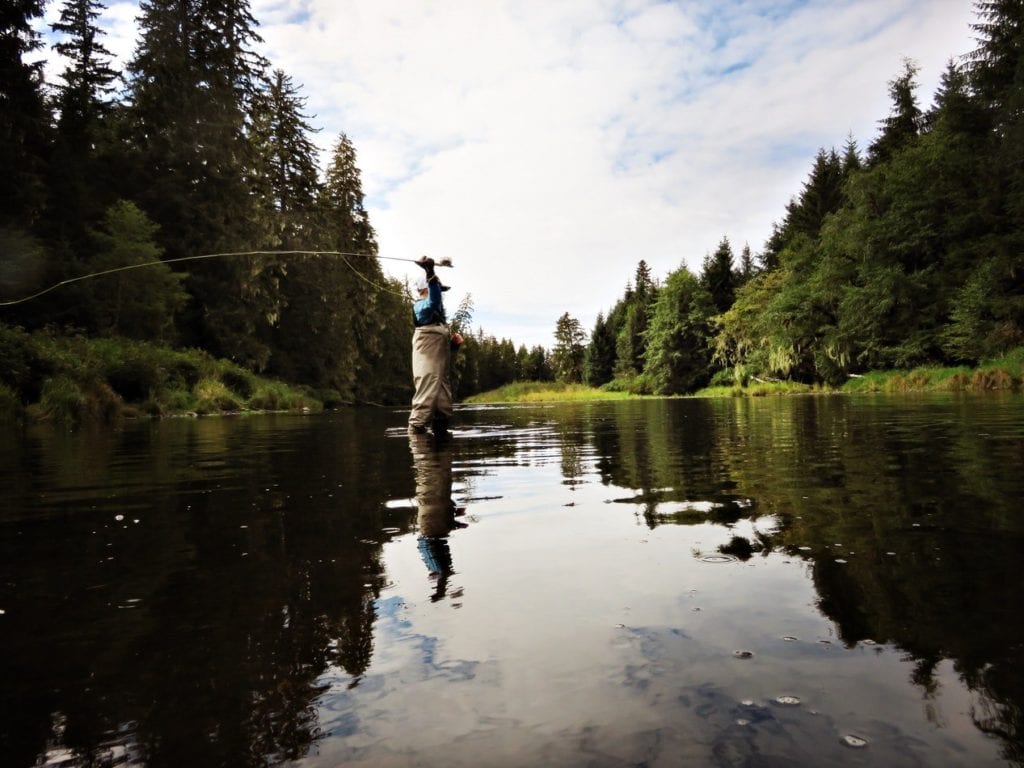 Are you looking to take the fishing trip of a lifetime? Then it is time you started looking into booking an Alaska fishing vacation packages all inclusive trip! With summer just around the corner, it is the perfect time to start planning out your trip to Alaska. Almost 80% of visitors to Alaska arrive for vacation pleasure, while the other 20% is made up of business or family visits. A whole 85% of those people visiting Alaska are domestic travelers and 99% of people who come to Alaska for a vacation trip claim they have a lot of satisfaction with the visit.
Fishing vacations are a relaxing time where you can take some time to slow down and focus on the things you enjoy. The summertime is the best time for fishing in Alaska. The weather is much more agreeable in these months with a better chance for the water levels to be at ample levels for the fish to be biting. Also during the summer months is when businesses will be open to cater towards tourists in Alaska. The main tourist season in Alaska is May 15 to September 15 because this is a time where you will see temperatures typically ranging between 60 and 80 degrees Fahrenheit. This makes for a comfortable, relaxing, and safe Alaska fishing vacation.
What exactly would you consider the perfect fishing trip? Are you looking for a large quantity of catches? Maybe the biggest catch possible? Regardless, choosing the right time to go fishing in Alaska will play a huge part in making a great trip provide perfect memories.
No matter what end goal you have in your all inclusive trip to Alaska, there is a good chance you will meet it. If you want to do some salt water fishing, there are plenty of open water areas if you want to wrestle a trophy fish to the boards of your boat. If you travel to Bristol Bay, you can find some of the biggest salmon in the world. If fly fishing is your thing, the Kvichak River features rainbow trout that are true trophy material, a benchmark that's set at 30 inches in Alaska. Your all inclusive vacation to Alaska features plenty of choices for the angler enthusiast.
If you are looking for a fishing trip that includes more luxury, Soaring Eagle Lodge is the perfect accommodation for you. This Alaska luxury lodge includes eight oceanfront, private cottages that are located on the bluff overlooking Mount Iliamna and Cook Inlet. Here, you are sure to enjoy incredible views, acres of wildflowers, and access to Alaska's exciting wilderness without sacrificing comfort — you will be nestled in your own warm and cozy cottage. Your Alaska fishing vacation packages all inclusive trip here will allow for brilliant hiking among the natural wilderness.
Your all inclusive vacation at Soaring Eagle will also include:
Roundtrip airfare to Anchorage
Car rental for eight days
Access to an Exclusive Adventure Coordinator and a full detailed planner for the week
Fish processing and airline certified fish boxes
Fishing licenses and hip boots
Up to six days of fun-filled Alaskan Adventures per your choosing
Those are just a few tidbits about your Alaska fishing vacation packages all inclusive trip. Alaska is filled with such a variety of great fishing experiences for either the most hardcore angler or the common hobbyist. From sailing the open waters of the Pacific Ocean, to walking the banks of many mountain rivers, to flying above the body of waters with a helicopter, your fishing trip will be a special memory you will take home with you.